An inspiring write-up by Babu Maddesh:
As my earlier job demanded lot of travel, I traveled all over India often and met many awesome people along the way. I met a retired soldier when I was travelling from Jaipur. During the conversation, he told me "I loved the life in the army than the life I have in the society".  He went on to say "I am not the one who likes to kill others or like to getting killed or watch my friends getting killed. I miss the brotherhood of the army. Brotherhood has nothing to do with how you feel about the other person. It's a mutual agreement in a group that you will put the welfare of the group, you will put the safety of everyone in the group above your own."  I wondered at that time, how they can be happy that much without the facilities of modern society. I realized that when I pushed into the world of hierarchy, betrayal, wealth, competition & distrust. If you are curious to know about how I realized my brotherhood in this trek, continue to read. If not, one day you will come back and read this.
I really had a bad week mentally as well as physically before the trek. I was in complete mental stress and my right leg was hurting much because of the running. Until Friday night I was not sure of joining this trek. I decided to join the trek to spend some awesome time with people ignoring my leg pain.
I met Sivamurugan at Tidel bus stop and he is talking non-stop at the very first meeting who entertained us throughout the trek. We boarded the bus at their respective boarding points and travelled to Uttukottai. We had proceeded towards Nagala East after breakfast.  We had introductory, briefing & group photo session and starting walking. Arun was leading the team and we were following him.  Until this point we hardly know each other and having some uneasy conversations.
We were walking towards magic falls. We went behind arun & we missed the route to climb the magic falls. As I remember from navigation bootcamp, the route to magic falls is clear. He guided us towards steep and dense vegetation climb. I saw the route & I joined with raj to follow the normal route. We reached the sliding pool. We decided to take some rest. Now we had time to have some real conversation. We are getting to know each other better.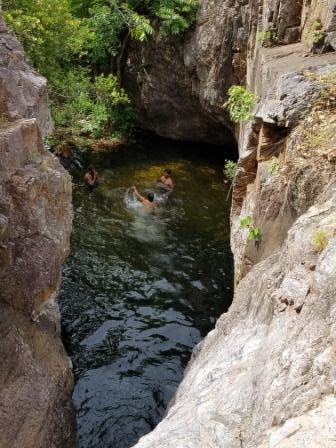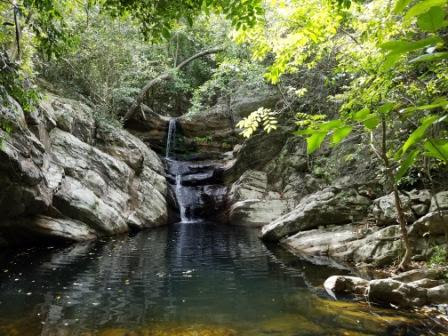 We walked along the valley of sliding pool in boulders. After reaching two step falls, we took a diversion towards 7 obstacle route to dead end pool. As the name suggests, we have to cross the 7 really challenging obstacles. We climbed up for some distance and reached the valley which takes us to dead end pool with obstacles. Our first obstacle was to cross the naturally formed pool with knee length distance. We are not able move sideways because of steep rock on both sides. We shed our shoes and crossed the water.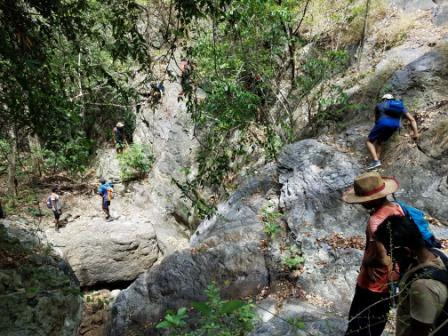 The next obstacle was really challenging one. Steep rocks both sides with sliding angle with the water. Arun and niranjan went ahead to confirm the route. We followed them. One of the smart guy (Bala) in our group got down in the water and reached the other side with ease. As we climbed half way and we don't want to make our shoes wet, climbed steep route with vegetation. At one point, there was one steep rock and I was struggling to climb. Prasanthi asked "Do you need push." She pushed my bag upwards and I climbed with ease. I heard lot about prasanthi, I thought she would be tough. But I was completely wrong she is easy going and doing kalaichifying everyone. From the really tough spot, I got down and joined niranjan, Bala & Arun. Our Raj sir reached from other very easily to that point. Niranjan & Myself got down wake of find the route. We were waiting down side. We heard some scream. Niranjan told me wait there itself and he climbed up & check on other people. I was waiting for 15 mins. I am able to hear only and able to see anyone. I thought they left me like this to take another route. I had confident that Niranjan backpack is there at least he will come back. After sometime, the guys were in sight. I learned that Subroto Gosh is having difficulty in crossing because of fear. We walked along the valley and reached dead end pool.
We took a small rest. Guys started taking pictures for fb profile pictures between the rocks. There was mesmerizing sight between the rocks which gives always good profile pic.
Niranjan had a personal target of not having water until picnic pool. So he walked so fast along with bala and we were going steady pace. We were walking in the boulders and water flow between the boulders made our tasks tough because we have to walk on the boulders without falling into water. If we fall our clothes and shoes become wet which will make our climb even tough. We took a small rest and our chellababu sir was sharing his past trek experience with us. We had good chat. We proceeded further and met with Raj & Prasanthi. They were waiting for us to guide in proper route. We climbed up little bit some distance away from steam and again climb down to valley. Again at one point, there was no way that we can go further without removing our shoes. We removed our shoes and walked in the water. After crossing the water, I asked raj sir, should we remove our shoes hereafter. He said that If you can cross the short passage ahead with your shoes, you can put on your shoes. I put my shoes on having confident that I will cross with ease. But unfortunately I fell down in the water before that short passage. I walked into water with my wet shoes. Raj sir told us to climb up and do a climb down you will find a picnic pool and we will wait for other guys to join. We followed raj sir instructions and we reached picnic pool. Niranjan & other guys were waiting there. We had a lunch with sharing and had a small dip at picnic pool.
Almost everyone in the group had great time and our conversations were going in a flow. We are no more strangers. We started mock each other. We were really having great time.
Arun lead the team towards 50 meters falls. As usual he took us in the wrong route. We had a difficult time in climbing down because the downward path so steep and with no vegetation as well as rock. Somehow we managed climb down. Our friend Subroto was having difficult time climbing down. He took some time to climb down and Thomas (Cool and patient guy) was guiding Subroto to other side.
We started our next destination in the valley and I faced really difficulty in climbing big boulders and water in between. Raj sir took subroto in different route, because he was facing some difficult in climbing up big boulders. Others proceeded in the same. Prasanthi & others went forward fast. Chellababu sir & myself going in front searching the route prsanthi & co took. Somehow we found the route & reached 50 meters falls. We waited for some time for other guys to arrive.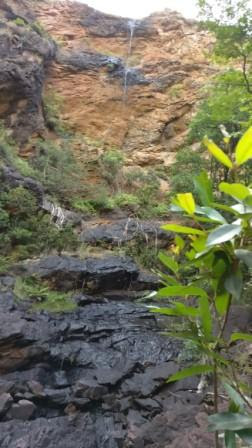 Our doctor Sivamurugan was talking non-stop & Niranjan asked "Where are you from?" to mock him with his place. Unfortunately both were from Karur. We had a great time mocking Niranjan with the same question he asked. The fun is over and the time to move on. We have to climb the 50 meter fall sideways and it's really steep. We were using both legs and hands to climb up slowly. When we reached up, most of our throats are dried up and searching for water. Many of us didn't have water & arun offered us some water which he saved during the climb. We met raj & Subroto in the peak. They reached before us in the different route. We had photo session at the top and started walking towards our base camp location. We reached our base camp location with energy dried up and exceeding enthusiasm. We dropped our bags and ran for water.
We started our upma cooking. Arun was chief chef, he was instructing others to how to cook Upma. Every one of us was doing common tasks. There was no ego & everybody was doing some work regardless of their age. Somehow prepared our upma & started eating. It tasted like heaven on that day. For entire time in the campsite, our doctor & entertainer sivamurugan was talking continuously & mocking everyone. He had great time mocking Niranjan because they were from same place.
We prepared our bed, rain showered for some. We went into tarpaulin and the rain stopped. We spread our tarpaulin and rain again showered again. This game was happening again and again. We decided to try our fortune in the nearby hut. Myself and raj sir took an elevated bed which was constructed using trunks. I am not getting sleep because of the height and its instability. I went back to tarpaulin and slept.
Next day woke up, completed our morning duties and prepared coffee. We had our coffee and breakfast.  We started walking behind the raj sir. We reached to steep valley. We filled up our bottles in the water flow of valley.  Raj sir lead us upwards and it was really steep climbing. I didn't dare to look back. When we reached the peak, it's an amazing view and we were able to see a Pulicate lake from there. It was dry trail from that point. After walking some distance, we have to do a steep climb down. We climbed in the valley which also steep. We took some rest after reaching top. We Started walking towards our lunch spot. We were covering so much distance. Our energy was drying up along with water bottles. At some time, everyone was searching for water. We reached our lunch spot. We had our lunch with some really interesting conversation. By this time, we were no more strangers. Our bonds glued up and we trust each other. That was real cohesion without any expectation.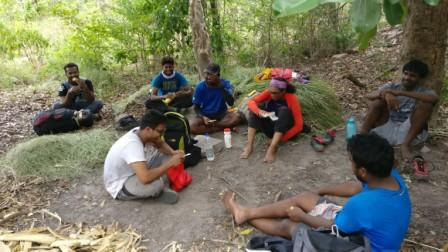 Raj sir decided to take us in unexplored route. We all had a mindset like we will reach the downhill soon. But this route was really challenging. It had some climb ups and downs challenging than our 7 obstacles. Somehow managed to south east valley and started our descending in south east valley. When we about to reach the plain, instead of joy, I felt sorrow to miss this awesome journey with awesome people. Now I don't have physical as well as mental pain which I experienced during my start of the trek.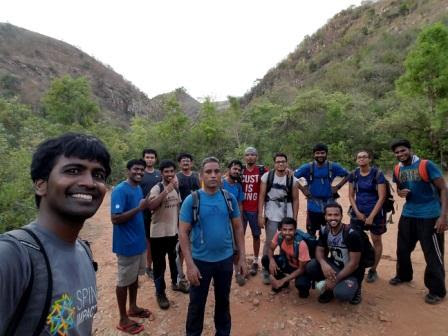 In the entire trip, everybody was equal in the different age groups and everybody was able to make it. Everybody was having unlimited fun and there were no hierarchy. There was no internet, no phone connection, there was no proper cooked food and there was nothing which modern society offers. But we really enjoyed our two days. We enjoyed to the core because people at Chennai Trekking Club knows what is brotherhood is. It is not only the trekking; all the events at CTC offer that brotherhood. If you really want to experience that brotherhood like me join Chennai Trekking Club.