Written by: Padmanabhan S.
We all have dreams. Sometimes we go get them, sometimes we don't even try but most of the times we take half ass'ed attempts and just leave it hanging in the middle. As a kid, I remember, that I used to gaze outside the train windows and see those uninhabited mountains. I fantasized climbing on top of them one day but I never knew when.
I attended and passed fitness test last November itself but I never registered for any moderate treks. I always thought, maybe next time and the next time never seemed to come. I did some voluntary work, snake walk, easy treks etc. and did some treks with friends to Nagala west but the moderate trek was still a daunting task I never attempted. The closest I did was the boot camp final assignment in Nagala where we had to make an early exit, after getting exhausted and scared in the unknown mountains.
When my friend and teammate Preeti asked if I would register for the moderate trek I thought, If not now, then when? And immediately registered. Optimistic for the journey, I started shopping a week before, bought new trekking shoes, sleeping bag and a lightweight shoulder bag from Quechua brand. The fitness test to qualify for the same was scheduled on Wednesday August 17th. If anyone don't know about the fitness test. It involves, carrying a 10 KG bag and climbing on top of a steep slope for 100 meters in the Pallavaram mountain, in 10 minutes or lesser time. I had just tried two weeks back and finished with 11 minutes. I went in with some preparations but was still scared. I didn't do that bad since I climbed in 8 minutes. While my friend did the same in 7.
Start from civilization
I took leave the day before to take some rest and did shopping for all food items mentioned in preparatory mail. I bought extra but in last moment took everything out since I had to choose between the bag weight and hunger. My final inventory included two Jam buns,2 snickers, 2 apples, two natura bars, 2 Maggie packets,1 tang powder, 2 soup packets and a fruit cake. Though I took leave, I never slept early owing to the PV Sindhu medal match that day. I slept around 11:30 pm and I woke up around 3:15 am and reached Guindy by cab at around 4 am. I found few folks in shoes and backpack and quickly realized they were from Chennai trekking club. I went and got introduced to everyone (I forgot most of their names). There was Dinesh who seemed fit of the bunch, Cyril who was having a round hat, Rajesh who was in the PG hostel trade, a guy straight out of college with a heavy back pack and few others. My friend also came there in a few minutes' time.
The van that would take us came an hour late as one of the drivers slept off and Peter came out to welcome us in our van. I entered inside the van and found loads of yellow tarpaulin sheets. I found a place to sit along with my friend and we made a stop in Koyambedu and picked many folks making the van full with not an inch to spare. We reached Utthukottai at 7 and had breakfast. There I got introduced to Mithun and his friend who asked us if we were first time. They gave a friendly advice to keep moving forward while our mind would think otherwise in the first few hours itself. I was kind of hoping for a tough challenge so it didn't scare me much.
From Utthukotai we took a right and again a left after few kilometers and passed through two villages. The road turned scenic and we were slowly able to see the mountains. Close to the foothills was a tiny village and I was happy to see a school there and children waving at us. As we almost reached the destination, the last ten minutes was a bump ride with a rough road and a struggling cab.
Let the trek begin!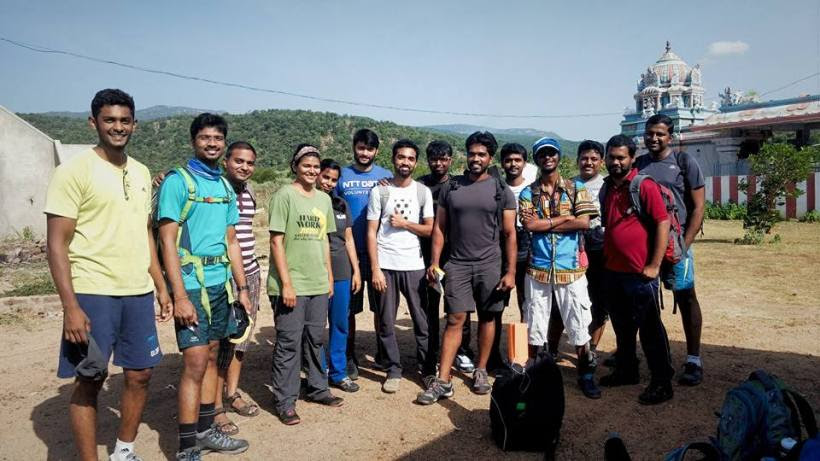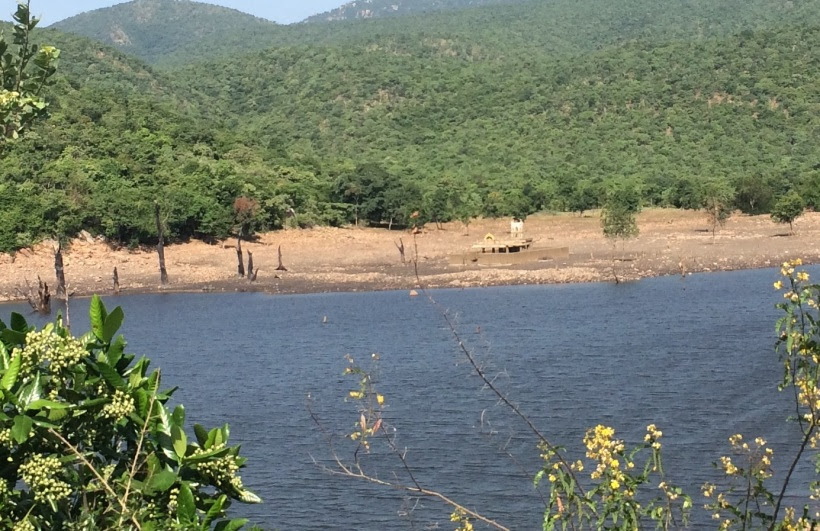 We parked all the vans near a Shiva temple and Peter and Jaweed weighed our bags giving approvals. Peter mentioned that the difficult part was not the trek itself, but the weight of the bag. I saw people all around getting ready, adjusting their shoes, rolling the tarpaulin sheets, cutting ropes etc. We gathered around finally and Peter gave instructions like not to leave the group and about the sweeper and how we might be split into two groups based on our stamina.
I stayed close to my friend and we started to walk towards the mountains and first came across a small dam which had a smaller temple in the center and some dead trees. We walked around it and slowly started to enter the forest. We walked on a flat trail for some time and came across the first stream. Peter asked us to drink up. I heard him say, "I thought you were the younger ones!" to a fellow trekker who was already looking tired.
From there we turned left and walked not too far from the stream and came across a big pond formed by the stream. Again we had some water there. By this time I was very glad finding water stops every 15 minutes and some rest. I wondered, maybe this trek won't be that difficult after all! From the pond we turned right away from the stream and climbed a small distance. (Last time I came, we went straight along the stream to reach the dead pool). What do you know? We got to another stream in no time and the stream took a small nosedive and had a pool in the end making a perfect spot to slide. When I reached, the people before me where already playing there. I just took my shoes off and placed my foot in the water next to a frog that was swimming casually near my leg.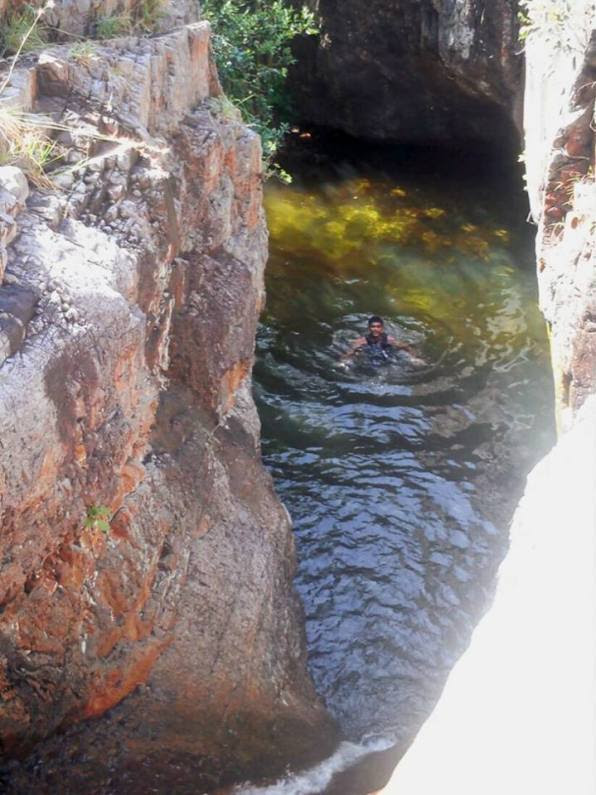 Peter came behind almost immediately and instructed everyone to start moving as we were already running an hour late. Vishal who was acting as a sweeper quickly came behind and I heard him speaking to Peter that already one girl had dropped off and someone else has gone to return her to the cab.
By this time I quickly put on my shoes and we again started walking forward near the stream. In a short while we made another stop and the stream was flowing very slowly here and formed a small puddle. Here we had nearly half an hour stop and Peter instructed this was the last water point for next three hours.
People were sharing biscuits and dates. But I was not able to share anything as I feared if the food I had brought was not enough!
After taking rest here, filled my bottle to the brim, drank as much as my stomach would carry and started walking. Though it initially seemed all fine, we soon took to a ridge and started walking upwards and I started to lose my breath. The climb made the Pallavaram mountain climb, seem easy like picking daffodils. Along the way I was able to see people in groups starting to sit and try to rest but I was determined not to stop expect for once when my shoe lace came off. After almost losing all steam in my body and my legs begging to stop we came across a clearing where someone had constructed what I would call a tall bed made with logs on all four ends and put together by ropes and leaves. I placed my bag on top of it and took rest for a minute. At this point I saw even some of the organizers out of breath. There were voices from experienced trekkers around to keep moving and not to stop. My friend told, let's keep moving, while I was still not fully recovered. But I started anyway trying not to lose momentum. After a hell a lot of climb, reached the top of a mountain to an amazing view surrounding us. There was short grass and few small fern trees on top. Many went to a protruding cliff and took cool pictures with nothing but a deep valley behind them, while myself and my friend stayed in safer distance and took photos.
Dry Stream
We again started walking and they took a head count to make sure no one is left behind. I heard Peter mentioning something about a dry stream but didn't get the full context. The walk turned little comfortable. Soon the forest became thick and dense and the light slowly reduced to a dim glow. Saw some beautiful butterflies fluttering their wings around me and we came across what looked like a small pit, we crossed it and walked forward while people behind shouted for us to stop. We back tracked and found that it was not actually a pit but part of the dry stream that Peter was talking about earlier. We took a left now and walked upstream while many people went ahead of us. I must admit that walking up the dry stream took every bit of energy I had. It became very taxing and seemed never ending. I was getting a reality check on my fitness while the bag which was around 4 KG started to seem like 10. My friend was climbing a little better than me and she stopped in multiple places for me to catch up. At that point Peter said, now you all would appreciate the importance of a lighter bag. I climbed catching hold of all the vegetation I could find and that included many thorns that started to scratch me with no mercy. We even got a chance to have a view of one of the peaks in a distance. We then found a clearing and sat catching breath again while Peter came and said, the actual resting spot was just few meters on top and we might also get good wind up there. Taking his word, we started again and we did reach the spot he mentioned about, where everyone settled below a big tree's shade. Experienced guys asked us to eat something and try to hydrate ourselves. I sat along with my friend and we shared an apple and plums that was delicious after all the hard work. During this time, I tried to fold my leg and felt a severe spike of pain in my thighs. I stretched my legs out and felt little better.
We were told that the next stop would be lunch and we might get an hour rest there. It seemed like a great news to me. So we started again on a trail which was mostly downhill and we caught up with a stream. In a place where the stream widened we all settled for lunch. Many went quickly and found flat rocks to lie down. My friend went left and found two great spots to sit. Everyone started to eat their lunch and I saw most of them eating sandwiches. We planned to have the two Jam buns that were in my Bag when Cyril offered a packet of tamarind rice to everyone which was for his friend who dropped in the last minute. Me and my friend took a chuck of the big packet and it felt very satisfying to eat rice. We also ate a 5 star that my friend gave while I saved the bun for later. Then we decided maybe we can rest for a while. Already many had started to sleep.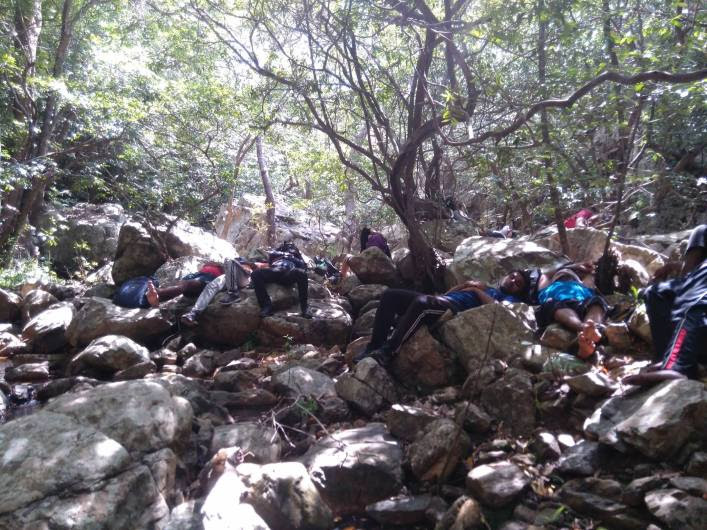 I tried to sleep leaning back on a tree while sitting on a stone. It felt not so comfortable but I was able to get short spans of sleep, but woke up to a strange stinging insect and constantly falling leaves. Involuntarily I folded my right leg too much and I got a severe unbearable pain in my thighs that left me hoping in pain. I was not able to rest my leg down and I feared it was going to spoil the whole evening. Constantly I rubbing my thighs I got little better in 10 minutes. Slowly all woke up and again we started downstream now. I lost my friend in a bottle neck situation involving horrible thorns and a cramped leg.
Skip Hop and Jump
I prayed for an easy trail but all I got was some huge boulders. I had to jump a lot and my leg was taking a toll on me. I prayed God for strength. Once I had a situation when I had to jump from a sliding rock to a tree with a rough surface that was split in the middle and jump down from the tree again to the rocks. And once entered a hole, that was a bent cave and jump from there to the ground after making some crazy foot work. Well it got little interesting I could say before I got down successfully from those situations. I constantly got tired and the rocks got challenging by the minute. The old French couple who came with us was in front of me and they were struggling a little with their heavy bags. I drank the water coming from the stream flowing around me as though it was a magic potion that would cure my pain. With some determination and elbow scratches (didn't find any grease :p) I caught up with the group.
It did not take me too long to realize the most difficult part of the whole post lunch routine was starring right at my face. I saw my friend standing on the comer of a big boulder saying she was scared while people were counting to three to make her jump. So the situation now was like this, the stream was flowing down from a big boulder to a deep pond. The way down was to walk to the right facing the rocks and skim left for a while completely blind of where the foot would land and after that part of the course, we have to jump from one boulder to another with stream running some 20 feet below hiding the sharp rocks beneath them. Great news here was Peter standing there and holding us. I remember saying to Peter I was very scared as I took each step carefully. He held me tight all the way. Else I would have never made it.
Then I took the jump which was a small dose of adrenaline rush and a kind soul caught hold of me in the other end. But the challenge didn't end here. We had to make a rope descent again down the stream with slippery rocks. I saw my friend to my left doing voluntary work along with people who were passing all the bags down. I sent her my phone to take a snap which later was used to take video of all of us brave souls. I removed my shoes and put them around my neck like all others and started to descent down.
As usual was little scared. I was not able to keep my legs as wide apart as others as my leg was hurting and with some hard work and great help from people around I got down in one piece (while the bro shooting my video was crying out loud asking me to tell a 'hi' but it all fell in deaf ears J.) I dropped my shoes in the water and it got fully drenched along with my socks. Then I walked along the chest high water to reach a clearing where the passed bags were placed. I tried to get my bag, then later became a part of another human chain to pass the bags further along the stream for some more distance. I realized few bags were more than 10 Kgs. I wondered what people had brought and most importantly why? After passing all the bags I jumped down another set of rocks to a pool but it was less deep and went to a clearing. I sat down a rock keeping my legs in the water, which I later found was infested with centipedes and cockroach like insects. One of them even managed to get on top of my T-shirt. Quickly got of the water and I put on my wet shoes carefully checking for any insects. Sundhari who was one of the organizers, got her ankle twisted from the sharp rocks below the stream and was in great pain. I felt real pity for her and thought these mountains could get to even the best of us! I waited for my friend but she was very busy, still volunteering in the back. She started almost last from the place and after I got her eye contact asked her to come quickly and I started giving myself a 5-minute head start considering my leg. I was instructed to just follow the stream and my friend soon caught up with me. There were not many people surrounding us and the pack was distributed far across the stream. There were two more guys behind me and Mithun and his friend were before me. Mithun's friend also took a slip and fell hurting her leg. We wished them luck and proceeded forward. The soggy leg with wet socks gave me an odd sense of comfort for my sprained leg. But I also had my part of bad luck with wet rocks and fell hard on my butt. Determined to not stop, rubbed myself hard and started walking slowly while my friend patiently accompanied me.
Then with my friend and another two guys behind me we reached a water falls and a stunning view that I can't describe in words, of another mountain cliff standing there in front of us. One of the guys tried to climb down the falls but later we decided it was very risky and we took a roundabout and reached the second level of the falls. There was a deep pool formed by the falls which again continued deep down to the forest. Almost all the people started swimming in the deep pool while I along with my friend stayed out as we didn't know swimming. People showed their skills jumping from cliffs above to the pool and it was fun to watch. By this time, it was starting to get dark and the clock started to slowly move from 5 to 6. We ate the jam bun we had saved from lunch and ate some mixture other people shared. Again I didn't contribute anything back! How selfish! We realized we had not yet reached the base camp and it was really starting to get dark. Even Peter who was mostly pushing people forward, sat comfortably and showed no signs of getting up. We enquired around and got to know the camp was just 5 minutes from there. One of the experienced folks, with specs (I forgot his name) said he knew the place, so we started along with him and few more folks joined with us, while many were still interested in swimming.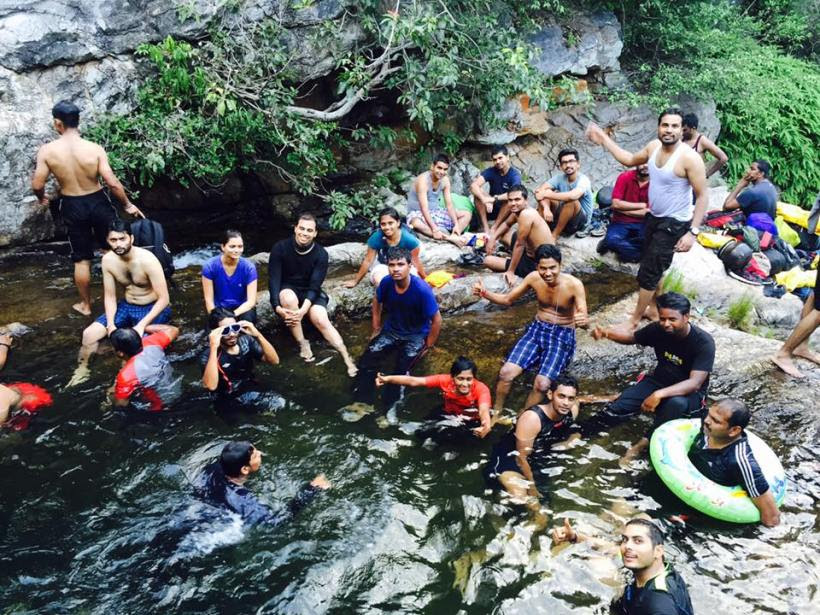 We climbed down the steep falls along the side and from the third level of the falls walked left and got down to discover a hidden falls flowing, which sounded like a melody. Again I took a right turn and came completely down to the forest. Here we saw another small cute falls taken right out of a magical poem and forming a shallow pool. It was almost dark and we walked little down the stream and found a small clearing in the right. We all opened the tarpaulin sheets and I found a place to sleep. I changed to the dry clothes and hung my wet dress in the branches nearby.
We all started collecting twigs as instructed to create camp fires and Peter asked me to accompany him to find some stones as we walked further right and the steam caught up with us. I went along and I was happy to find two stones and then I went to fetch water. By this time, it was completely dark and with help of flash light and some spilling a couple of times I returned back successfully. To see the water in the dark, with fishes glowing in my flash light was an experience of its own. Later I went to call my friend and others to bring the Maggie packets. There were totally 3 stoves set up in 3 different locations. I helped collecting more twigs as possible while my friend helped in cooking. I was surprised and inspired to see her know what she was doing with the stove. (I finally gave my contribution to the group with an extra packet of Maggie J) I ate to my stomach full with the bowl I took with me and then we went to wash them in the same stream. I bid my friend good night and went to sleep by 9 pm.
While I tried to setup my place to sleep I found a lot of spiders. Thankfully I had a sleeping bag with me. I slept inside my sleeping bag, though I had a constant feeling of something crawling in my legs. The roots and plants in the ground, below my tarpaulin sheet made it tough to sleep for me as I was a person who always slept on beds and even would feel uncomfortable with coir mats. The temperature was quite high and It was quite sweaty taking also into account my sleeping bag. But I was not ready to take it off! Waking up every 1 hour to change sides I managed to sleep for 9 hours.
Sunday Morning
I woke up around 6 am to see some people already moving around while others were sound asleep. I thought it was better for me to make a move as soon as possible, (to make it less awkward) and find a good spot to you know use the open forest bathroom.
So I came back to the camp after successfully locating a spot and breakfast preparations were already in full swing. So I took out the soup packets we had and gave them to the guys cooking. While it was taking time to boil I thought maybe I will take a small bath in the stream as I was stinking head to toe. Problem was The dress from last night was still wet with water and dress I wore in night was wet with sweat. Anyways I took a bath reducing my odor output by half. I returned back and my friend was holding my share of the soup along with some corn flakes. It was then I realized the amount of food that was present surrounding me. There was Upma, Milk and tea, Cornflakes, soup, more Maggie and what not. It was mind blowing and It explained all the heavy bags I found the previous evening. (A big salute to all the awesome souls.) I heard Raghul, one of the organizers say, "who wants to quit please let me know. The exit is just 5 minutes away!" I saw people laughing and I initially thought it was a joke. Then even Vishal said the same. It seemed we could follow the stream and walk north east to exit to village. Those who were exhausted, had cramps, tired were requested to take that path. Though it would not take just 5 minutes but rather a few hours, it was a real route to get out. I thought for a moment about my leg but decided not to immediately. I wanted to do it completely!
We slowly started from the camp and I helped fold some tarpaulin sheets, packed all my dress in my bag. (I was hoping a significant weight reduction today but what I lost with food got added by wet dress.) I took my T-shirt and tied it to my neck to reduce the weight from by bag and started along with all others.
Now having some rest and a long day ahead I started bravely. We first reached the stream down the camp, while around 5 folks bid good bye to us and took the early exit. We were instructed to drink as much as possible as there was no water point for the next 3 to 4 hours! I tried to drink as much as I could, filled the water bottle completely and started as we cut perpendicularly across the stream and began to climb up some rocks. The start of the trek itself showed sample of what laid ahead. Giant rocks in an old, not so used trail. The elevation was steep with a challenging terrain, dead trees, webs, and dead composting leaves in the floor. There were endless possibilities to take in all directions and all seemed scarily silent. I found Sundhari in front of me struggling with her hurt leg. Again here I lost touch with my friend in a bottle neck where she climbed pretty well forward while I struggled and Dinesh and few more folks helped me climb up. I faced similar challenges in few more occasions where people literally pushed my ass up on certain occasions. I got little worried as I was not able to see my friend for a while, I wondered if is she might get lost in the forest going ahead. The hard climb got harder and harder and we reached a spot which had a beautiful rock formation with a big gap between the rocks. I went inside and walked on few slippery ridges with help of the vegetation to catch hold of, to finally find some sunlight. Then I came across some people taking rest and I asked them If they saw my friend. They said she came long ago and would have reached the top by this time. I gave a sign of relief and climbed to the top. I reached the top to find a great panoramic view of all the mountains and my friend welcomed me. The view was a great compliment from nature for the hardship we went through to reach the top. We took a group picture here with Vishal climbing on top of the lone tree for taking the shot. The greatest surprise here was there was mobile network on top the mountain.
Literally we were in the middle of nowhere. Vodafone for working but my phone didn't get any reception. So I called with my friend's phone and It was totally strange to get in touch with my family in that location. The organizers then said, those who feel you might need more rest, start first from here so you can get more rest in the next check point. People told water was still 3 hours from here. So I felt I had to preserve the 2/3 water I still had left. As people started to move, my friend was still busy in phone with her family. I told her I will take a head start again and started. Bless the Gods for the trail from here was cool with flat trails and steeps that were easy compared to the first morning trail. We were surrounded by short grass and lots of fern like trees. The sun was starring right at me and sometimes it went behind clouds and hid itself. But again it didn't take me too long to go out of breath. I found many people, who had started in front of me, taking rest in many places. My mouth got very dry and I was breathing hard with my mouth. I realized I was losing lot of oxygen and energy by doing this and controlled my desire and tried to breath with my nose while I was completely sweating. I then sat down on a rock and drank some of my precious water. One of the guys asked me water and I was not brave enough to say no to a tired soul. So I gave him and said, "please drink little." Then with some more will power I started to walk with steepness slowly increasing. Peter waited in the middle and said, just few more distance and we can take a rest. I was pleased to hear that but didn't know how long that actually was as he always calculates with his own metrics and they were all totally different. Jack one of the experienced guys, who wore an orange CTC T-shirt and had a good sense of humor, was walking behind me. He advised seeing my shoe, that I had tied it wrongly and I have to use the hooks or whatever he called them so I don't get any ankle pain and shoe lace won't go out.
Finally, we reached a resting place. I was very thirsty by just took a sip since I was worried about how long we had to go without water. Peter said he would go down to search for some water. Jack bent down and helped tie my shoe lace tightly and after that It never came out and it did feel strong on my ankles. There are no words to thank him for this help. By this time my friend came along. Peter returned back with everyone eagerly waiting to hear him say water. He conjured his magic again and said there was water. He called who were still going strong to accompany him with the empty bottles. I quickly drank my bottle in one gulp and passed along the bottle and sat comfortably there itself. I ate a whole snicker as I felt very hungry while my friend said she was not hungry and just thirsty. We rested as much as we could and after water came I drank a little. (Jack even shared Gems with me. What a cool guy J)
So again we started and made a head count. I asked people around when would be the next water point and they said again it was 3 hours. I wondered when this 3 hour will ever end. But thankfully the terrain seemed good and flat with constant changes from bare lands and bright sunlight to dense forest and dim light. After walking a short while, Peter asked all of us to stop and spread out and sit. Some ate the upma they packed from morning while others ate from the endless supply of bread coming out of their heavy bags.
Peter now told everyone there is an optional trek for 40 minutes each up and down. My first thought now was let me skip it! Then he added, we would go for some ancient British ruins followed by a view point. The ruins part of what he said excited me and I asked my friend. She was more than energetic to go and so we started.
Ruins
We again walked on some flat terrain but sun was beating down on us on as it was 12 o'clock. I saw some dark clouds in the sky and wished they would give some shade soon. About forty of the sixty people came along. It didn't take long to realize that we were walking on a long forgotten road made with stones. There were even small channels made intersecting the roads to let the water flow. I thought about the sweat and blood of our ancestors in building the roads in British time, while it was difficult only to walk on the roads. In a half an hour time we reached the ruins that comprised of three buildings that were run to the floor and what might be a well or something. I even saw chunks of many old asbestos sheets there.
Peter then said the view point was a walk for 30 more minutes. Me along with 8 more folks decided to stay by the ruins and wait for others to go and come back. After all the exploration we all regrouped to the place where we initially started.
Adventure time
Taking some rest and with a low supply of water we again started. Now Peter said our plan was a little adventurous where we were to search and find an old trail that used to connect the east and the west part of the mountains. We all followed Peter who tried to find the trail with the help of his GPS. We used to walk for few hundred meters and stop and take another route as Peter would shout out U-Turn. Initially It all seemed funny moving back and forth and felt very similar to how I was running about in my navigation boot camp few months back but soon it started to take its toll. We all sat while Peter few folks were moving around. Finally, they decided on a direction and we started to move. The sun was beating down and we had to do some climbs.
With water too scarce I decided to eat an apple slowly for quenching my thirst. You should have been there to feel the taste of the apple that day. It was the most delicious apple I have ever eaten in my whole life. The path was very interesting, it was one of the roads that lead to the ruins, it was in good shape for some distances, with steps laid out from neatly placed stones, while some parts of the road was taken over by the forest making us take a roundabout. The location seemed like it was taken right of an Uncharted series video game. The roads made me feel proud of our ancestors every second!
We walked forever and reached a cliff marking the end of the flat mountain top. We had lost the actual trail somewhere along the way! There was still no water to be found but the good news was now we could follow a dry stream starting from the top (for what they said as half hour) to reach a stream. People were all desperate for water and tired. Taking some rest, we again started as usual but now on a mission., to find water! I had just a few ml of water almost hitting the bottom of the bottle. We mixed some tang in my friend's bottle to get some energy.
We climbed down a small dry stream again laden with dry trees, old leaves and webs. The ambience seemed different from all other places for the past two days with an old look and feel to it. We walked and walked down descending a never ending dry stream but there was no water to be found. Occasionally we heard people in front of us shouting that they found water but it was all a prank, that acted as an acoustic mirage. After walking for nearly twice the time they said when we could find water, there was still no sign. It even started to get dark. Then as hope was almost lost we saw Peter sitting on a rock saying we would find water in next 10 minutes. But we walked for nearly 20 minutes and there was no water. We came across a small dirty puddle of water once but it was not potable. We sat down and drank all the water we had left. We had no other go as we were really tired. We then found water seeping from a rock but that also was very dirty. Then after walking for nearly just 5 minutes we miraculously found water. The sight of water was very relieving. We drank as much as we could and filled our bottles again and started. I thought by that time the base was soon to come but it never arrived. The forest slowly started to get dark and we rushed forward even though I was tired, since didn't want to climb down when it was totally dark. After many minutes of walking found Peter jumping on a pool of water and exclaiming, "Oh la la!" It brought a laugh to my tired self. We asked Peter for directions as he told to go a couple of meters forward to regroup and then again we would start. We all ate the remaining amount of food we had remaining and took some rest.
I was completely exhausted by that point and wished for the journey to end soon. It was easily the most difficult thing I had ever done till that point. Mentally I was a little tired as well.
Then we were told we had to take another trail for at least 5 kilometers to reach the foothills of the mountain. One more catch was van was available in the exit only for only the first 40 members. Other 20 had to wait for one more hour. We all rushed to hit the trail first and come in the top 40 of the head count. With nearly 10 people near me I started to walk along with my friend hoping for exit soon. The trail now also had few steeps but was manageable. I remembered after a while that I forgot to fill my bottle to brim and it was less than half full. I struggled a lot now with shortage of water and took a few rests along the way. The trail was filled with some tall grass on either sides. Finally, the trail that was still maintaining an altitude started to dip. The trail looked as though it was used daily by the villagers and I even found some bricks occasionally. But the worst part of the trail was it was too steep in going down and it took a lot of effort on my lower legs to stay balanced. Legs started to pain like anything and the gravel was insanely slippery. Took rest in couple more places and many people overtook us. Then after a loads of hard work we came to a place where we were still in some altitude but we were able to see the valley below. At this point I met with Peter and asked him about how long it was for the Village. He said, just another 5 kilometers minimum and pointed at a lake far away that glittered in the dipping sun light. The view was breath taking and so was the journey. He comforted us saying in few minutes we would reach the foot hills and from there it was a walk on a flat road. Peter then over took me went down from even a steeper path. He felt like he was from another planet at that time.
We reached the foot hills and they asked us to wait for all to regroup. I laid down and closed my eyes feeling my heart beating so fast. Slowly my heart calmed down and I regained some energy. We stayed there for nearly 45 minutes for everyone to regroup and take some rest. Actually I was not that far behind after all! Having got some energy, we started to walk for the village. Great news was It was still an hour away with the 5 kilometers still valid. We walked and walked with the sun slowly setting down. It felt like a road to redemption, a road to civilization, a road to salvation. A link from this world to another to save this exhausted soul. All spirituality and philosophy was flowing out from my mind. Peter and few folks went jogging to reach the village earlier. I was mind blown by their stamina! At a point of time it went completely dark. We walked with the help of our phone light and by around 7 :10 we reached the Village. The village was lighted with colorful bulbs and music getting ready for a carnival. Wow what an entrance back to civilization!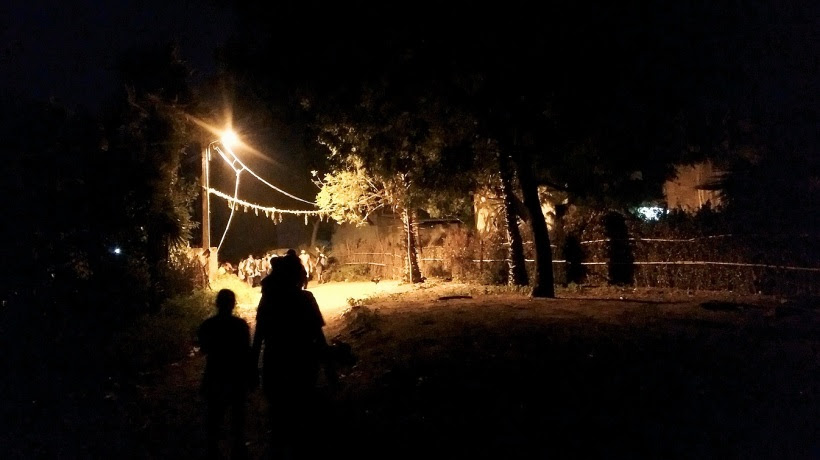 The Vans to pick us up were still on their way and we used that time to get water from the villagers. We were even lucky to find a shop to get some cool drinks.
I felt a sense of accomplishment to have finally completed the trek.
We got on our Vans and as fate would have it, the van that me and my friend were on was the same we traveled a day ago and it broke down in just half an hour. (the driver never changed his faulty belt from yesterday!) We got down in a village and my legs refused to move. With great difficulty walked about and found something to eat. The van was beyond repair and we had to take outside bus which was at 9:30, an hour from that time. The last van carrying remaining 20 members came to our rescue and all the girls and people with emergency were asked to take this other van. Since I had to drop my friend I took the van and there was no place for me to sit. After a stop in Utthukotai I arranged a small place in the aisle and rested courtesy on a fellow trekker's legs, came till Koyembedu after which got a seat. Then I got down in Kattipara with my friend and reached home after dropping her in Ola cab at around 1 pm.
I came to know we traveled nearly 30 Kilometers in two days. IT was like nothing I had ever done before. Words could not explain the experience I felt. The pain, the joy, the magical moments and the low keys. IT is something we have to experience on our own to truly understand. My respect for nature, my respect for my friend, my respect for my fellow CTC trekkers and organizers and most importantly my respect for my life that I live only once, increased to a whole new level. I will never be the same person again and I am waiting for my next journey and excited to where life would take me!
After all this story I told I forgot to tell about a most important person or I could say a four-legged companion? A dog accompanied us for all two days travelling the entire distance, eating with us and sleeping with us. You are the best Girl! You are the best!
Pic Courtesy: Dinesh Dinu, Harish Karthik, Karthik Manikandan, Jaweed, Preeti